Discover more from New World Perspective
Musings on geopolitics and markets.
Geopolitical Compass #18
Fallen Taleb. France burns. PPP matters. Solar fails, again. Kenya stands up.
Notable events in geopolitics and capital markets this week. Expand your perspective, gain context, and discover actionable insights.
Bitcoin
With each passing day it's becoming harder to look rational and coherent while criticizing Bitcoin.
When even sympathetic interviewers find it hard to make sense of your argument points, you know you're pushing shit up hill.
Slovakia
Nations that become friendly to Bitcoin earlier than others will reap the benefits. Slovakia gets it.
BRICS
The universally accepted measure of growth in an economy is GDP. The problem is this is a pretty flawed metric. The US defense department spending $400,000 per missile sent to Ukraine vs the $25,000 it cost them three decades ago all counts towards the US's rising GDP. Inefficiency and stagnation are rewarded with rising economic numbers.
Ask yourself, if the US spends $842 billion on defence next year, and cannot defeat (by proxy) Russia who spends around 10% of that number, does that headline figure really matter?
What really counts is Purchase Price Parity (PPP) which accounts for such metrics across different nations, like when you pay 10x the amount for a plumber visit in Germany vs Mexico.
When accounting for PPP, BRICS nations are now surpassing the entire GDP of the G7 'world's largest economies' and will leave them in the dust in the coming years.
I know where I'm investing my money.
France
It's amusing that last week we were treated to a supposed 'Russian coup attempt' splashed over every Western mainstream media tabloid and TV channel.
Simultaneously a much worse uprising is playing out in the capital of France; police stations are burning, schools destroyed, looting, over 70 big fires currently not counting cars and rubbish bins. Similar scenes in Marseille and other cities across France.
Amazingly though we hear virtually nothing yet about it in mainstream media. I wonder why that is?
For eternal globalist Emanuel Macron, it appears France has become an inconvenience, getting in the way of his greater EU wide ambitions - forced to leave an EU summit with his pals on Friday to deal with matters closer to home.
As the violence becomes worse, the establishment will try to paint this as a George Floyd event - protests supposedly because of the death of an immigrant teenager at the hands of police (who's mother seems surprisingly happy for some reason). Not because of the years of forced acceptance of millions of immigrants who don't share the same values as the traditional society they are being dumped into. The same is happening across the EUSSR in countries like Germany, Belgium and other Western states - sadly the riots in France are already spreading across the border into Switzerland. The exception is stronger, nationalist minded states like Hungary and Poland - and one can see how hated that is by the globalists and the constant attacks these strong-minded leaders like Orban face for not falling into line.
In reality, the situation in France is yet another powder keg strategically put in place by EUSSR globalists. France has been primed with an influx of immigration for years to the point their society is primed with organic discontent and agitation, ready to be triggered with these type of events at a moments notice. Send in one bad cop to incite an incident with one immigrant and allow the violence to unfold.
As a side note, I also wonder how many of the guns currently being wielded on the streets of French cities made their way there through the Ukrainian weapons laundering scheme?
Traditional French communities will finally get sick of this violence and allow new laws for even harsher crack downs against protest and violence - something the French authorities are already very good at (and police are demanding authority to do). Except the French will be sowing the seeds of their own containment, oppression and serfdom further. More police armament, more authority for oppression, less rights to free speech and communication tools. Just in time to try to keep Le Pen out of office as Macron's already diminished supporter base completely eviscerates. Thinking of marching on the street to voice political protest, this is what they'll face…
Underlying all this is the continuing weakening of all states within the EUSSR. A weakened France in domestic turmoil will be less able to stand up for itself against the globalist cabal.
Despite what the people are told, 'voting harder' won't make a difference in these nations which have become controlled by globalists. Regardless of who is nominally 'in power,' they will need to tow the line or face mass violence whenever needed. The globalist agenda will move forward at all costs.
Like all socialist states before it, the EUSSR will also fail, but not before much oppression, violence and the death of millions.
Any country that has lost it's sovereignty to a supra-national body or permitted the infestation of globalists in it's corridors of (real) power will face this in its near future.
Nationalism is painted as the enemy today, when in reality it is the only thing that can hold a country together against outside forces intent on subjugating it.
Kenya
The President of Kenya laying out how a new fairer system should work. The fake smiles and uneasiness from Macron and IMF head Kristalina Georgieva are palpable. They are not used to 'the help' standing up for themselves, and they don't like it.
Alex Krainer does a good job going into further depth on this subject:
Such remorseless, unscrupulous colonial plunder was only possible for as long as western powers like France and their ruling oligarchies had an effective monopoly on power, both in the military sense and in their control over the global financial architecture. Today however, this is changing, for the first time in centuries thanks to the leadership of Russia, China and other BRICS nations. In his remarks during the Summit in Paris, Zambia's President Hichilema openly praised China for its support and thanked China for generous development funds offered at 1% interest - a sharp contrast to the harsh financing conditions from western financial institutions.
Renewable Energy
Solar power doesn't work when it's cloudy, or apparently when it's too hot.
Britain has started burning coal to generate electricity for the first time in a month and a half, after the heatwave made solar panels too hot to work efficiently.

The National Grid turned to coal to generate electricity as a rush to turn on air conditioning and fans across the country during the heatwave led to a spike in demand.

High temperatures over the weekend also reduced the amount of energy generated from solar panels. Output on Sunday was almost a third lower than a week earlier, despite temperatures climbing above 30 degrees celsius across large parts of the country.
Ukraine
In case there's any lingering doubt it's the intention of the Ukrainian regime to launch a larger attack on the Zaporizhzhia nuclear power plant…
False flag attack in 3…..2…..
This is one of the few avenues left to Ukraine to 'legitimize' bringing Polish troops into the country before the West loses interest. Hopefully they execute it as poorly as their previous false flag attempts and the majority of the world sees if for what it is.
This week Russia has duly warned the United Nations about this upcoming false flag, during which time Ukraine continues to shell the power plant.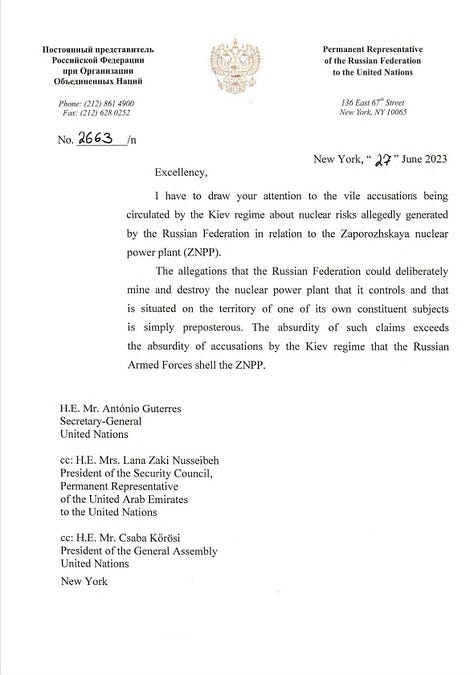 This will undoubtedly go ignored by the wider UN, the last hope the world had of a neutral body.
---
If you enjoyed this weeks Geopolitical Compass, please consider sharing it to spread the word to others.