Geopolitical Compass #36
If you're invested in the shipping sector but haven't dived into RORO & PCTC carriers, now may be the time.
This Week:
Down and out in the cannabis sector

Whining Zelensky soon to be gone

Mass media, the ultimate contra indicator

RORO & PCTC carriers: The shipping sector few talk about has great dynamics
Down & Out Sector
The cannabis sector has struggled to gain traction in the US, confronted with multiple battles from oversupply in some markets, restrictive regulations in different states, black market supply, unfair accounting treatment, and lack of payment solutions due to its status as illegal at the federal level.
Longer term I think a number of these issues including legalization will be resolved - if only as the US government will be happy for people to have more distractions away from the political state of the country or fact they're getting poorer. Then cannabis businesses will just to have to deal with regular supply/demand factors, including the presence of the illegal market supply.
The safer place to be would be the larger players like Green Thumb Industries or Verano with operations across multiple states and leading brands. Or to add some extra spice, you could always look at an international player based in Israel like Intercure who's share price has understandably taken a beating in recent weeks. Ironically they're one of the few players already profitable on the bottom line.
The worse the domestic political situation gets, the more likely we'll see movement on the cannabis issue. While I don't see any immediate catalyst - cannabis has been supposedly been just at an inflection point for years now - it remains on the watch list.
Middle East & Ukraine
The conflict between Israel and Hamas has drawn all eyes away from Ukraine, with funding looking to be cut off soon. Zelensky is finally being pushed to negotiate with Russia after almost two years of being instructed not to deal with them under any circumstances, the West has your back, with you all the way, blah blah blah….
As usual, hollow promises from a West that will cut and run as soon as a situation becomes politically inconvenient.
I'd say it's quite probable that Zelensky will be removed from power by his handlers soon. Whether he's taken out in a box or via a 'diplomatic post' in Miami remains to be seen. On the bright side, hopefully it means an easing in tensions can begin with actual negotiations taking place.
The problem remains nothing has changed for Russia - they still cannot abide a militarized puppet regime Ukraine on it's borders. Conversely the US, UK and EUSSR will have to back down from their idiotic rhetoric which is seemingly impossible considering how far they've dug themselves in.
While there are many possible scenarios, for now the most likely is that Russia will continue to grind on in it's land battle, securing it's regions and continuing to demilitarize Ukraine and by extension Europe and the US if it continues feeding weapons into the conflict.
One thing is for sure, to make progress in any regard, I think the days of seeing this sad face of the begging, whining, Cocaine Dwarf are numbered. He'll be scarified as all Western puppets are sooner or later.
Mass Media
Do they ever get it right?
No they never get it right. They go for the populist take or the dictated narrative. They are however a great contra indicator. If mass media is telling you one thing, you're likely better off questioning their story and considering or investing in the exact opposite.
Shipping
There's always a lot of buzz and investor interest in the shipping industry, but with so many different sectors, it's hard to keep up; crude carriers, product tankers, bulk carriers, container ships, LNG tankers, the list goes on.
But one sector you don't hear much about is the niche RORO/PCTC carriers (Roll-on/Roll-off or Pure Car/Truck Carriers) - ships that transport wheeled cargo including cars, motorcycles, trucks, semi-trailer trucks, buses, trailers, railroad cars and even wind turbine blades (transported on trucks). These bad boys: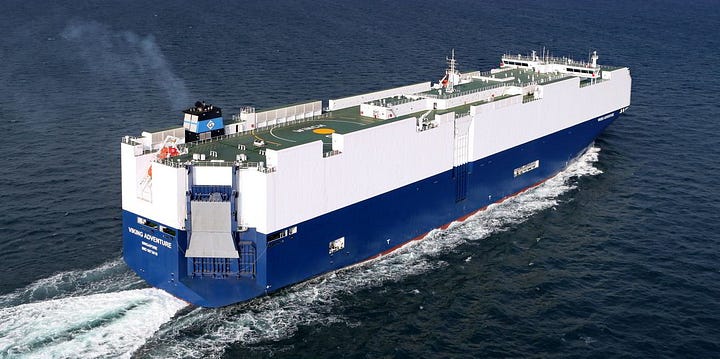 As Asian manufacturers - particularly China - continue shipping increasing numbers of vehicles to the world, demand is rising for carrier transport. There has been a shortage of ships in the industry, so rates have gone up substantially and are still being locked at higher rates in late 2023.
Taken from the recent Q3 of Höegh Autoliners:
This post is for paid subscribers