Indonesia: A Quick Guide
A country that is often overlooked in favour of headline-grabbing nations like China and India has a lot going on.
While much of the world's attention for developing countries is dedicated to China, with India as a close second, many are either oblivious or overlook the rise of Indonesia, the world's fourth most populous country and the largest economy in South East Asia. As well as having the world's largest Muslim population, Indonesia has a significant influence on ASEAN (Association of Southeast Asian Nations) and its regional politics and security and as such, is a critical player in the wider Asian region.
This piece is not designed to be an in-depth analysis of Indonesia and its prospects, nor a regurgitation of a Wikipedia entry. I intend to provide an overall awareness and reference guide for those who may wish to pursue more knowledge.
Demographics
Indonesia is a nation of around 277 million people, urbanizing at a rate of 1.8% annually and a median age of 29.9 years. It's life expctancy rate has been increasing for decades, and while it's fertility rate is decliningIndonesia is a nation of around 277 million people, urbanising at a rate of 1.8% annually and a median age of 29.9 years. Its life expectancy rate has been increasing for decades, and while its fertility rate is declining, it remains above the replacement rate.
Geopolitics
Indonesia is an archipelago nation that occupies a strategic position between the Indian Ocean and the Pacific Ocean, and as such, is a significant maritime crossroad, including the ever-important Strait of Malacca, the waterway enabling China's access to the Indian Ocean - a stretch of water that comes into the headlines anytime the West decides it wants to poke China.
Geopolitically, Indonesia follows a policy of non-alignment and an independent foreign policy stance. It has good relations with China, balancing this with other neighbours, including cordial relations with Australia to its south (a US lapdog state). Like many Asian nations trying to balance themselves between the competing interests of China and the West, Indonesia has opted to stay out of the argument during recent geopolitical tensions over Russia.
In 2022 the country stood up to intense pressure to uninvite Russian President Putin to the G20 Summit that Indonesia was hosting.
The new US-led, anti-China defence alliance AUKUS will also require delicate maneuvering by the Indonesians in the years ahead if the plan to provoke China with nuclear-powered submarines off its coast is fulfilled. An idea so dangerous and deal so bad, it barely needed the explanation of former Aussie PM Paul Keating to outline it, but he did anyway:
Pressure from both China and Australia will likely be placed on the Jakarta government in the years ahead to pick a side.
Here it is interesting to note that in 2022, China accounted for 22.6% of Indonesia's exports, while the US was at 9.7% and Australia a paltry 1.2%. In fact the US and all the serfs allies it can easily strong arm account for less than 35% of Indonesia's export trade.
My bet is Indonesia will politely but firmly tell the Aussies to get stuffed if backed into a corner geopolitically.
Economy
The Indonesian economy is expected to grow at around 5% annually in the coming years. Services account for around 41% of GDP.
Agriculture and industry comprises around 50% of the economy. But Indonesia is often overlooked when it comes to commodities, with countries like the DRC getting the Cobalt headlines or Chile grabbing the Copper attention. If you're not paying attention, it can easily be missed just how much Indonesia actually produces. Did you know the nation ranked: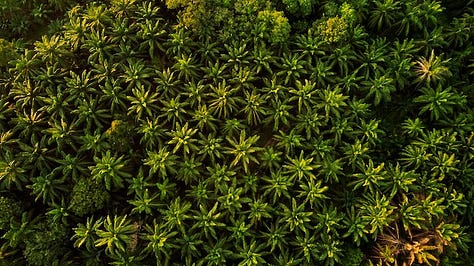 Importantly unlike most Western countries also high up the ladder in many of these commodities - Indonesia has the determination to continue down the commodities path and is rapidly increasing production in many of these areas and industries, where as many other nations are leveling out or going into decline.
This post is for paid subscribers